Today we are celebrating Julie Fearn. Since Deadlines for Writers started in 2017 we've seen many of our writers go on to publish and accomplish great things with their writing. The Prompt to Publication emails are all about celebrating these writers and their wonderful stories.
I hope these interviews will help you and teach you how to use Deadlines for Writers to build your author platform.
Scroll down to watch the interview. 
Author feature: I'd like to introduce Julie Fearn
Which challenges have you participated in?
Julie Fearn: A friend recommended 12SS to me, and I began in the autumn of 2020.  Hooking up with many other writers and reading and writing in such a supportive group was terrific.  By December, I realised that I wanted to do the 52 weeks challenge to write a novel.  I had written a play with too many characters and themes but knew the core story needed to be told in novel form.  So, I began the 52-week challenge in January 2021.  Nervous and highly excited.
What have you published?
Julie Fearn: I have published my first novel Northern Pole, a drama about WW2 refugees starting over – described as a novel that… 'enthralls in its heart-stopping twists and turns.  Authoritative, meticulously researched and plotted.  An intelligent, compassionate, beautifully written book.' Lizzi Linklater, poet & writer, book review.
Has Deadlines for Writers helped you as a writer?
Julie Fearn: The site provided discipline (in a fun way), insight into the many areas of novel writing via Zoom seminars and an invaluable handbook on how to write a novel that was fun and absolutely essential.  I learnt about the need for stories to have a specific structure, how to plan and plot and what a scene consists of and many other things such as writing convincing dialogue, using setting to underline the story moods and creating a page-turning read.
The feedback from the other writers was invaluable – my novel would not be what it is if I had not benefited from the careful, thoughtful, incisive feedback given each week.  Our writing only truly comes alive when someone else reads it – and to have such meticulous attention to your work, freely given, is an absolute must for you to reach an audience to whom you want to connect with.
What did you learn that you applied to your story?
Julie Fearn: I can honestly say that had I not done the 52-week challenge, I would not have written my novel.  The discipline of writing a scene every week was exactly what I needed – I think all writers need deadlines because they are truly motivating.  The course content is fantastic – you literally learn how to write a novel in bite-size chunks with so much help from the course tutor and fellow writers all on the same journey.  It's that simple.
What is your favourite story you wrote for 12SS?
Julie Fearn: I didn't stay on the 12ss very long as I decided to devote my energies to 52 Deadlines, but I did enjoy writing a story called Precipitation in 2020.
Biography: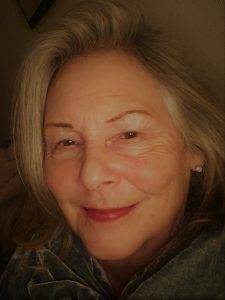 Northern Pole is Julie Fearn's first novel.  Previously she has published short stories.  Julie was born to Polish and Irish immigrant parents in West Yorkshire and jokes that she is 'Poirish'.  She now lives in the historic city of York, North Yorkshire, in the UK with her dog Poppy and is immensely proud of her heritage, family and late parents.
Read an excerpt from Julie's story.
''Roman's thoughts were full of his subsequent encounter with beautiful Bridget.  He turned into the street where he lodged.  Children played out on the road.  They chalked on the pavements, hopped in and out of squares, jumped over skipping ropes, and were happy and content, it seemed.  Nearly all the houses in the area had lodgers—immigrants like Roman, sharing rooms and working in the surrounding mills and factories.  Roman's roommates were Tadek, Andrej, and Josef.  There was no such thing as a room occupied by a single person; they packed all rooms to capacity.  There was a large kitchen where the occupants gathered to cook and chat in their languages.  The owners of his lodgings, Mr Svenski and his wife, secured a mortgage on a modest deposit funded from their lodgers' rents.  Roman hoped to do this one day if he could not return home.  Roman burst into the kitchen searching for Andrej, who lounged at the table chatting with Katerina as she mixed the dough for pierogi dumplings, a favoured dish from home.  Katerina had her hair pulled up inside a headscarf, her apron dusty with flour.  She was laughing at something Andrej had said.

'Here's trouble!' Andrej said as Roman pulled a chair out to join him.  'How was your walk?' 'Great!  Fantastic!  Do you know what a funicular is?' Roman said, tugging off his rucksack and then his jacket.  'A what?  No!  What are you babbling about?' Roman raced through how he bumped into Bridget at the inn on the glen, who proposed they meet at the funicular next Sunday.  'What a coincidence,' Andrej said.  'I wonder what she was doing up there?' 'I didn't get time to ask her.  She was with someone who didn't look pleased to see me.''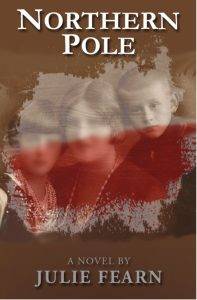 England 1946, Roman Kozynski, a Polish refugee determined to build a new life after WW2, arrives in Northern England. Ripped from his homeland, Roman continues his search for his family, who he last saw in 1940s Warsaw, arrested by the Gestapo. But Roman is also running from something. When he falls in love with Bridget and finds his mother, the weight of his past threatens to derail their new life. Northern Pole is the gripping story of the fallout from the terrors and tragedies of war. Partly based on actual events, the novel is a timely reminder that we have learnt little from history.
Well done, Julie!
Want to be featured on Prompt to Publication?

Are you an active, participating member of Deadlines for Writers? Do you have publishing news to share? Please mail mia@12shortstories.com and tell her all about it.