Prompt to Publication | Martin Haworth
Today we are celebrating Martin Haworth. Since 12 Short Stories started in 2017 we've seen many of our writers go on to publish and accomplish great things with their writing. The Prompt to Publication emails are all about celebrating these writers and their wonderful stories.
I hope these interviews will help you and teach you how to use 12 Short Stories to build your author platform.
Author feature: I'd like to introduce Martin Haworth.
Martin has been involved with 12SS since the very beginning. He completed the 12 Short Stories challenge in 2017, 2018, 2019 and is currently working on his next twelve short stories for 2020. He completed the 12 Poems challenge in 2019 and is busy with his next twelve for 2020. He also participated in The Keep Writing Challenge during lockdown and completed all 70 flash fiction prompts.
How has 12 Short Stories helped you write and publish?
Martin Haworth: I was not a fiction writer. I had written 12 business books and an anecdotal business story in 2004, but since then I have written and co-written 14 novellas, 9 of which are marketed on Amazon (with a few in reserve or as lead magnets).
I have published the first 25 short stories that I wrote for 12SS as a freestanding book on Amazon in my name (I use Martin P Haworth for fiction to avoid confusion with my business work), with the mesmerising title of '25 Short Stories'.  I will do the same for 2020.
Hot news is that I have published '101 Flash Fiction Stories – Tiny Tales from Trying Times' from the recent 'Keep Writing' challenge. I intend to continue with Flash Fiction as it is so much fun.
I am also planning to use four of the stories I wrote as inspiration for my next novels. Two are being worked on and will be published in 2021.
I take my stories from moments in my day – often dictating them into Notes on my iPhone and editing afterwards. Today I was waiting in the car park of a coffeeshop and dictated the core of 'Coffeeshop Stalker' while I was drinking my coffee. There's a twist in the tale, as always, and HEA is most often the goal. I try to leave little messages in my stories of encouragement of positivity or justice and sometimes of love and romance.
Did the feedback help?
Martin Haworth: Whilst not all of these mentioned above are direct expansions of the short stories I wrote in 12SS, they are edited and published with the polish and shine I learned from the gentle feedback and encouragement from doing the monthly challenge.
Did the deadlines and wordcounts help?
Martin Haworth: What I particularly enjoyed about the 12SS challenge is that I had to be disciplined. I'm both a pantser and a last-minute-deadline writer.
What did you learn that you applied to your work?
Martin Haworth: I learned that:
there is always a story to make the prompt
my writing is almost always pretty good
there is no perfection, as all reading is subjective
Martin's favourite 12 Short Stories story
Martin Haworth: My favourite story is Time Served, which will be the basis of my next novel.
Biography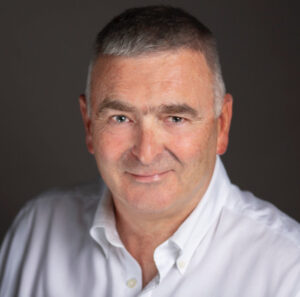 Martin Haworth is a coach, trainer and writer in leadership development and has 13 books published in this field.
Over recent years he has become obsessed with short story writing and has written every challenge posed by "Deadlines for Writers' since January 2017 (including poems – never written one before!) as well as the infamous 70-day 'Keep Writing' Fast Fiction challenge during lockdown in 2020.
His first collection of '25 Short Stories – Volume One' is available here on Amazon, to be followed by '25 Short Stories -Volume Two' at the end of 2020. His 101, up from the original 70, Fast Fiction stories was published on September 1st, 2020.
He has also co-written and published 9 clean, happy-ever-after romance novellas and 3 box sets as Alicia Best here. He is working on a Nicholas Spark's genre novel and also a Villanelle style novel at the moment. Not to mention a few other ideas too!
He is a polymath and an ambivent and lives in Gloucester, England. Martin loves travel, photography and football and has a wife (for 44 years), two grown-up children and 4 grandchildren (at the last count!).
Read an excerpt from Two Rights by Martin Haworth.
The coins jangle in her pocket as she tip-toes along the stinking streets. The drains gave up long ago, so negotiating an acceptable path is not easy. Apart from the odd whimper, the child is silent as she tries to keep up with her. After the months of unspeakable chaos following the army's entry into the city, the children are more durable.

There are crowds along the way this morning, though few seek the same destination as these two, as they make their way to their particular market.

She has saved from her meagre income for weeks. A penny here; a shilling there, forming a target for her to aim at, to overlay the everyday goal of survival. It gave her a focus amid the desolation.

Moments of hope in her monotonous days, amongst the hunger and sickness and the air-raids.

The man turns as she stumbles on the uneven cobbles, his ears fine-tuned to the faint sound of the money she carries. His senses have developed well over the years and in these times, they are valuable assets for the opportunities he seeks.

The money she carries in her pocket is everything she values in the world, except for Sophia, of course, and Lisbet carries with her a dream that she wishes to come true this morning – if all her praying to the gods has helped. The dream of achieving the fantastical hopes of her girl. The hopes that have sustained the anxious and sallow child through the winter,

The auction is her first stop, but not her only one today. On the return journey she will need some money to spend at the food market for the rest of her so-called family. The unaccompanied waifs and strays she has accumulated over the weeks past.

Despite the parlous state of her own affairs, she rattles one thin coin in the tin cup of the blind beggar huddled on the corner in the desperate cold. She has never known why he sits there, because it catches the wind so, but it is his place, and she knows him well.

"Thank you Lisbet," he says, as always. She never knows how he makes out it is her, but she walks on, task in mind.

"You're welcome."

She does not appreciate the consequences of the clumsy collision with the observant man who has skipped ahead. Nor the deft manner in which he callously robs her of her treasures. It is not until she arrives at the market and forces her way through the crowd to the auction desk that she realises what has happened.

"How much have you got Madame," the clerk demands of her. "Be quick now, we're about to start." "My money, where is it?" she turns each pocket out and, finding nothing, looks about her for sympathy which will not come.

"What am I to do?"

The man ignores her pleas, for he has other frantic customers to process quickly and before long, the room quietens as the auctioneer begins his morning's work.

"What am I bid?" Is his only question.

The buyers stare as Lisbet wails hysterically when each lot comes up. The boy will be up soon and she now has no money to buy him. She has no money to buy food either and they shall starve. She looks at Sophia and realises her only solution, with horror. She begins to make her way to the desk again, this time to see if they take last minute entries.

As the auction goes on behind her, the cacophony of the bidding delays her hearing the man who is interrupts her progress.

"Lisbet," he says, "take this money. You need it more than me."

She looks at the beggar-man from the corner. She sees the milky cloudiness in eyes that cannot see and tries to deny the gift, but he slips away through the crowd. So she grips the little bag of coins very tightly indeed and forces her way back to the high vantage point she left but a few moments ago, catching sight of the thin boy as the hammer is about to fall.

"Fifty," she shouts across the floor. The auctioneer looks across at her. "But the bid is eighty, Madame." "One hundred," she exclaims.

And this time, the hammer does fall.

She looks at Sophia and hates herself for her thoughts, but more, she hates the war that caused her to consider such a dreadful decision.

"Let's get Alain," she says to the child. "Your brother needs us." 
Visit Martin's author website and sign up for his blog.
Martin Haworth's Books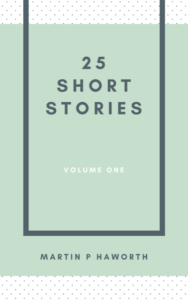 A little explanation. These stories all vary in length from 300 words to 2500. The topics are completely random, from romances to assassinations (without too much blood though, my assassins are cultured!).
The stimulus for them came from a 'short story a month' challenge at: Deadlines for Writers. You can Google them! All you have to do is write a short story to a prompt, to an exact word count and post it within a specified 24-hour window to the site.
Join up. Play with me and the hundreds of others who write read and comment. It's fun.
This book is the first 25 of those stories (including the one extra from a competition they now run each November). The first one was written in January 2017 and the last one in December 2018. They get better as they go and forgive me, the stories are as random as you could find!
I'd never written a short story before this challenge, so you can too!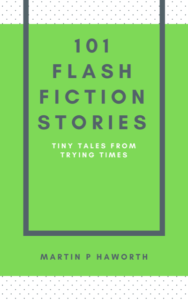 So, what's this all about, you might be thinking? Well, here's what happened. For a few years, I've been writing a short story each month as a challenge. You can find the first 25 (there is a bonus!) from the first two years here and there are a few the samples at the end of this book. That followed with a poem a month too.
The organiser of these challenges, Mia Botha at the excellent (and free) website called Deadlines for Writers (you can google it!) decided to issue a further challenge as long as lockdown remained in South Africa, where she is based.
So we all trooped off along this journey to write a Fast Fiction story each day and post it on the website (you have to be a member to read them), alongside the monthly challenges which were maintained. It became 70 stories. We were given a single word prompt and an exact number of words from 50 to 500 at random.
But I rather enjoyed the challenges and continued to 101, all of which you will find here. They are short (some, very short) and as such quite varied and, I hope, a lot of clean (I think!) fun!
Well done, Martin.
Want to be featured on Prompt to Publication?
Are you an active, participating member of 12 Short Stories? Do you have publishing news to share? Please mail mia@12shortstories.com and tell her all about it.