2020 Winners | 12 Short Stories
The 12 Short Stories Challenge for 2020 ended on 2 December 2020. I am so happy to say that 106 writers earned their #12/12 #braggingrights. Writers, you rock!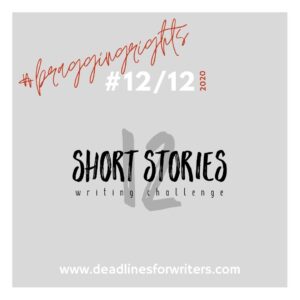 Let's look at the numbers:
You wrote 12 short stories.
You read and commented on at least 48 short stories.
You wrote 15 000 words. Yes, that is the total number of words for the challenge.
You are one of 106 writers who completed the challenge.
50 of those writers did it for the first time. That's 12 stories.
28 did it for the second time. That's 24 stories.
20 did it for the third time. That's 36 stories.
8 did it for the fourth time. That's 48 stories.
You made a difference to someone else's writing
You showed up. Every month. With a story. I am so proud of you.
The summary:
First-year Winners 

Amy Trakos, Anthony Ehlers, Anusuya Kasi, Becky d'Ugo, Becky Crookham, Bhavna K, Bronwen John, Catherine Garden, Charles R. Bucklin, Cinthia Albers, Claire, Deb Snyder, Dionne Foley, Duane Allicock, Elizabeth Strehl, Estelle Westley, Francis Gerd, Ja Racharaks, Harvey Covey, Jane Bradshaw, Jennifer, JM Barrie, Joel, Julie-Anne McDowell, Julius, June Hunter, Kathy Sanford, Laura Handrick, Lauren Benere-Forder, Limor, Melissa Dill, Michael van Koetsveld, NetaQ, Nicole, Nonie McElroy, Nsbnina, Pfgpowell, Prakhar Gahlot, Rebecca Suchi-Otieno, Renee Shurilla, Riana N, Sally Brown, Sarah Muzaffar, Seyi, Stevie Kadangwe, Teresa, Tom Mullane, Taryn Uhlmann, Yogani, Zéfira
Second-year Winners

Amrita Sarkar, Ana, Anjum Wasim Dar, Athina Antoniou, Carolyn Dekat, Darryl Morris, Del Richards, Deryn Graham, Diana Gold, Fizza Younis, Honey Mustard, Jan van Wyk, Jes Brimer, Joseph Carney, Laura Kirsten, Maria Kinnersley, Marilyn Weisman, Michael Corvo, Ottersilver, Sandy Menarek, Sharon Hancock, Yerushah, Jaya, Rebecca J Robbins, Valerie Ciolek, Sue MacDonald, Melissa Patterson, Srivalli Rekha
Third-year Winners

Amrita Sarkar, Angelique Pacheco, Anthea Pretorius, Ash MK, Carolyn Dekat, Christopher Joyce, Christy Kunin, Ellen Eigner, Georgiana Nelsen, Jennifer Mackinnon, Jens Grabarske, Lionel Mullally, Maria Delaney, Paul Slater, Peggy Rockey, Rachel Nel, Sharon Clark, SM Prasad, Susan o'Neal, Will
Fourth-year Winners 

Beth Stillman Blaha, Cheryl Rush Cowperthwait, Elaine Dodge, Jeff Mauser, Mark Patterson, Martin Haworth, Mia Botha, Michael James.
Well done, writers. I am very proud. It was a tough year, but you kept going. A special thank you to the essential workers who gave up their challenges to keep us safe.
Be proud of yourself, writer. Even if you wrote one or four or five or eight stories. You have one or four or five or eight more stories than you had before. We're living through a pandemic. We all react differently and have different circumstances. Be kind to yourself and be proud of yourself.
We have an amazing year planned on Deadline for Writers. We are writing novels, poems and short stories. Which challenge will you choose?
Happiness
Mia
DEADLINES FOR WRITERS 2021:
The 12 Short Stories in 12 Months Challenge for 2021 will start on 6 January. The first deadline will be 27 January 2021.

The 12 Poems in 12 Months Challenge will start on 13 January 2021. The first deadline will be 3 February 2021.

And our new novel writing challenge, 52 Scenes in 52 Weeks, will start on 30 December 2020 and the first deadline will be 6 January 2021.