2020 Winners | 12 Poems
The 12 Poems Challenge for 2020 ended on 9 December. It was the second year of the challenge and the poets excelled at the prompts. A total of 49 Poets completed the 2020 challenge. Well done, poets!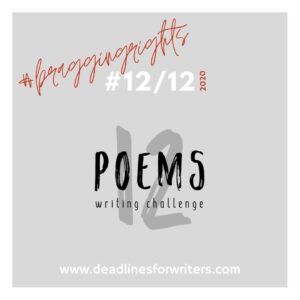 Let's look at the numbers:
You wrote 12 poems.
You read and commented on at least 48 poems.
You are one 49 poets who completed the challenge.
15 of those poets did it for the first time. That's 12 new poems.
34 did it for the second time. That's 24 new poems.
You made a difference to someone else's writing
You showed up. Every month. With a poem. I am so proud of you.
The summary:
The first time winners

Becky Crookham, CE Botha, Christian Donovan, Elizabeth Strehl, Glen Benison, Joan Shaw Turrentine, Lauren Benere-Forder, Limor, Mandla Phakathi, nainaSays, Poem Crush, Sharon J Clark, SaraS, Shae, Stevie Kadangwe, Annette Deyro
The second time winners

Amana, Angelique Pacheco, Anjum Wasim Dar, Cathy Cade, Charles Ryder, Christy Kunin, Debbie Gravett, E Damon Mitchell, Ellen Eigner, Fredre Dunn, Hanri Mostert, Hardly Haiku, Jane Bradshaw, Jesmond Sharples, June Hunter, Katharine Short, Liz Elfring, Marcena Hooks, Maria Delaney, Martin Haworth, Mia Botha, NetaQ, Nina Heiser, Pam Muller, Peggy Rockey, Rachel Nel, Riana N, SJ Cramer, Srivalli Rekha, Susan C Evans, Susanne Bennett, Thomas Mullane, Wanda Lovan, William
Well done, poets. I am very proud. It was a tough year, but you kept going. A special thank you to the essential workers who gave up their challenges to keep us safe.
Be proud of yourself, poet. Even if you wrote one or four or five or eight poems. You have one or four or five or eight more poems than you had before. We're living through a pandemic. We all react differently and have different circumstances. Be kind to yourself and be proud of yourself.
We have an amazing year planned on Deadline for Writers. We are writing novels, poems and short stories. Which challenge will you choose?
Happiness
Mia
DEADLINES FOR WRITERS 2021:
The 12 Short Stories in 12 Months Challenge for 2021 will start on 6 January. The first deadline will be 27 January 2021.

The 12 Poems in 12 Months Challenge will start on 13 January 2021. The first deadline will be 3 February 2021.

And our new novel writing challenge, 52 Scenes in 52 Weeks, will start 30 December 2020 and the first deadline will be 6 January 2021